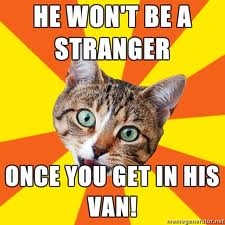 It started  like this, i got an email on escorts.com from someone calling themselves "providers voice". telling me not to use escorts.com.  Escorts.com was one of the companies owned by A-1 advertising and A-1 got raided recently. they also own HotMovies  among others no one really knows what the men in blue were looking for or which company they were going after but it was best to be real careful when booking off that site for a while.
I tried to look up providers voice, no history. I asked around, no one ever heard of them. The person mailing left a name i couldn't find no info connected. No website, No profile No trace. Okay noted. Ignored.
Today i get an email to my email address unsolicited with no opt out and i sure as hell didn't opt in. This one was waring "ladies" against giving their CC information to escorts.com who is now requiring it as an age verification mechanism. Yanno like CL, Back-page, Eros, City-vibe, That Mall, and pretty much any other legit business endeavor that caters to sex workers. Now some of those require even more to protect themselves legally. It appears to me in light of A-I advertising's recent raid they are now putting a policy into play to shield them from the charge of "Underage" which is the route LE has taken up against so many when trying to bring down business support services to escorts, providers voice is waring people to not comply.
No complying will get your profile taken down. If you've ever been a Escorts.com VIP (like i have) well then they already have your info and you likely didn't get the email  but because e.com is one of those sites that lets you put up a profile without being a VIP anyone can do it, now a CC will be required. Want the profile, then give them info. I know its scary with the recent busts but that's a choice you will have to make for yourself, if you are comfortable with that or not.
What i am taking exception with is some entity no once can verify doling out advice to sex workers… AGAIN. Didn't we jut go though this. Before you take any advice from anyone on the real business of sex work check them out. See that they are legit, vet them and then listen and use your critical thinking skills to see if what they are telling you makes sense to you. Though this group or person might be trying to do some good, they are already hading out bad advice they have  no website and their domain is less then one month old. They can be ANYONE. Would you take advice from a stranger on the street about escorting? Of course not, so why would you listen to an anonymous email? I know you dont when Nigerian banker tells you you've won a million dollars and all you need to do is give then 2k in a money order and your will be rich.
I've asked around, to long time women in the business those that do outreach and run and participate in safety sites,  NO one knows who this outfit is… i mean NO ONE.
In light of recent events both in MD,VA, DC, PA and in the blogosphere, you need to take a LONG HARD look at who is telling YOU whats safe and best to do.
I wrote back providers voice and i have yet to head from them, i may be waiting a very long time.
UPDATE: 11/16/20- Providers Voice got back to me and didn't give me any information as to who they are. They clam to be a legal and political advocacy group HOWEVER their website went live today and they are trying to get ladies to sign up for some $99.00 program of theirs.
I'm still trying to find anyone who may have any idea who they are. I've asked around to advocates, activist, escorts, blacklist groups and so far no one has any idea. They showed up out of nowhere with no credentials of any kind. They are unwilling to provide anything that will show their legitimacy to members of the community (and numerous people have asked them who they are). They are operating completely anonymously.
No credentials, no transparency, trying to collect money.
Yeah good luck with that.