I've been seeing it enough that I felt i should say something. It's always been there but usually it's well hidden and rarely bubbles to the point of being so public. With times being tough for most (yes, even escorts) people are becoming less and less secretive about sticking their noses in other people business under the guise of "defending a client" What it really is, is a couple competitors slugging it out in a public forum to try to gain more business. Or usually it's more like one lady calling out another lady publicly with the hopes that it will end up that the money (hobbyist) will follow the big mouth fuss maker.
Just because a client tells you "Provider X, is demanding I pay her fee after I canceled  or she will blacklist me" (or some other such made up bullshit) doesn't mean that you should then run off at the mouth and call out said provider X for her interaction with her client. You don't know their arrangement and odds are the "hobbyist" isn't being truthful with you.  Maybe she's being unreasonable and out of line or maybe she isn't but for a competitor to get in the middle of someones else's business transaction reeks of self interest. "If I defend him, in the future he will only spend his money on me". It also smells of using your business practices to further your self esteem issues. So don't do it. The hobbyist is likely setting your dumb ass up to be his white fucking knight anyways. Now you can fight it out with the other provider while he sits quietly on the sidelines fanning the flames, back channeling how stupid you are and how smart he is for getting you to do his bidding, feeling all full of himself in the process "look at those providers fighting over…. me"
I know it's tough out there and that it's easy to forget where "client" leaves off and "friend" comes in but here's a clue if you are having trouble with that gray area and are blurring that line. They ain't ever your friends and they sure as hell  don't need you to defend their dumb asses. Even if you think "He didn't ask me to defend him, I'm doing it because were friends" I'd bet cold hard cash on the fact that you were manipulated into thinking it was your idea to speak out, or rather to "rage out."  Why do you know about his intimate, financial dealings with any other provider in the first place? Oh because hobbyist dude is setting you up, that's why.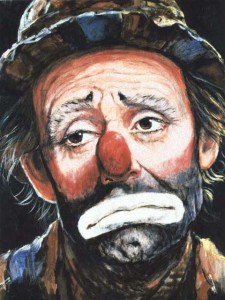 So next time a hobbyist wants to cry on your shoulder about how unfair and mean provider X is, and don't kid yourself hobbyists gossip and cluck more then a bunch of old ladies at a bridge tournament in Pokipsee, don't fall for it and make yourself look like a fool in the process. Just smile and nod and don't be a sucker. Hobbyists are big boys, grown ups, and if they are mature enough to make the decision to pay for companionship then they are mature enough to fight their own battles and don't need some manipulated hooker to do it for them.
I'm just sayin…