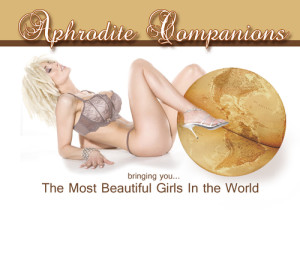 Aphrodite Companions was busted the other day. The husband and wife team who ran that NY/FLA escort agency are being held without bail on prostitution and money laundering charges. Agencies get busted all the time, which is why I write all the time about why you shouldn't work for one as an escort and why its dangerous to use one as a client. Agencies have a habit of being busted because since they are illegal business they tend to bend the legal business rules  yanno like  paying their taxes and trying to hide their income. They look good to prosecutors who if they were going to bust an independent girl would only get a misdemeanor prostitution charge, those prosecutors who in a situation with an agency can all it an "International prostitution ring" bust people on promoting prostitution, pandering, money laundering, tax evasion and so much more. They stack up those charges
What makes this bust more interesting is they didn't set up a meet with a client or escort and flip them or bust them. According  to court papers recently unsealed done all "digitally". They've got emails and they are also going to try to use TER reviews to help take this agency down. Yes, escort reviews. Yanno the things anyone can write and where any anonymous person can say anything about any one. It will be a long haul for the state to prove anything with reviews ( hearsay conjecture made up i made her cum 5 times penthouse story letters) but they will try. Who knows whats in the emails, I'm guessing the agency owners said shit they should have. Got lazy or careless. It was a year-long investigation and to my mind the worst thing that came out of it wasn't that these questionable people got busted (they have a long dramatic history fighting with other agencies and not exactly a good rep dealing with the workers who worked with them) but that a TER moderator was reveled to have traded good reviews for free sex of the girls who worked for them. Is that anything new? No mods try that shit all the time and are accused of it all the time though usually it's not released in court documents for all to read what a low life asshat a TER mod can be. This one according to the state of NY also wrote bad reviews about Aphrodite Companions competitors. What a dirt bag. I hope he gets a subpoena and has to testify in court about what he did and it ruins his fucking life.
This kind of game playing with people's lives is one of the reasons people hate to be reviewed or why they shy away from the whole review thing. Assholes like this and agencies like this that try to manipulate the situation so they can get laid for free or because making a huge amount of money off the backs of hard working sex workers just isn't enough for them they want or need more money, a bigger house, a bigger TV whatever the fuck it is. Greed and deceit are rampant.
Fuck all those people for being so damn shady. Fuck the agency for being stupid and greedy,  fuck the TER mod for being a dirt bag, fuck TER for allowing this tool to work on their site. They are culpable as well. I have a feeling these idiots will either plead out and do a few years or the whole thing will fail as it seems on pretty shaky ground if they are trying to use reviews as evidence. Or maybe this TER mod is working with the state of NY to further this bust… wouldn't surprise me and would be the first time a TER mod flipped and worked with the police. That site is toxic.
Read the full complaint Here