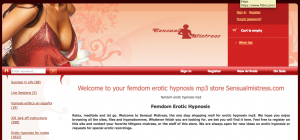 I've been around the block a few times. I have my mp3 sessions available for sale in several places. I've opted to not put them on some platforms, I've pulled products and ended relationships with others if I felt they were being shady. I've always been very vocal about it when I feel a platform is not dealing with content creators fairly or ethically. I feel those people should be called out in hopes that others don't get taken for a ride and platforms will think twice about acting unethically.
Enter Sensual Mistress. You might not know of them. They are a website that deals exclusively with Hypno-Dommes and Hypnosis Mp3s. When they first hit the scene I was reluctant to get involved. They are European-based and at the time they arrived the banking looked to be in Cyprus, a hotbed of Russian money laundering. The site is run by a Hypno-Domme who goes by Samba and the site didn't look professional, it still doesn't. I begged off joining, for years.
At the end of last year a colleague of mine, a top selling Hypno-domme, with a sterling reputation convinced me to put my files up on Sensual Mistress for sale. She had been listing with them since the beginning and told me of her positive experience. She made sales, she always got paid on time. I decided to give them a try. I wish I hadn't.
It went well for the first couple of months. I made some moderate sales. The site takes 30% of your sales off the top but I saw some potential. 30% is ridiculous but that's what a lot of sites take (which is why you should always buy hypnosis mp3s direct from the creator if you can) After a little trial and error I began to see that there was a slant to the kinds of files that sold there and began to list my back catalog in that fetish and a smattering of newer files.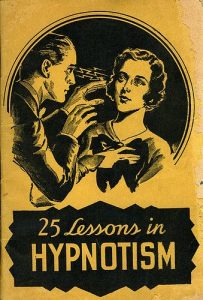 Jump ahead to this last month's payout. When I was short. Not a lot but enough for me to inquire as to what was going on.  That's when I was informed I was being paid in EUROS not dollars and I lost about 5% in the exchange rate. I suppose if I had been paying better attention I would have noticed this with the first payment but it took 3 payouts for me to realize there was a discrepancy. The way the site does payments to its content creators there was also a high fee to getting paid about 4%. So my 30% off the top when to 39% off the top. Meaning I made 61% of each sale and that my friends is a shitty deal.
I decided that for Sensual Mistress to remain worth the effort I would have raise my prices on Sensual Mistress $5.00 per file. That modest price increase would allow for any fluctuation in the exchange rate and the payment fees. The site owner was not pleased I raised my prices. Even though her off the top cut of MY work would increase with my price increase, she worried that someone might say something bad about Sensual Mistress on some unknown random forum somewhere on the internet. Clearly she believed the people buying mp3s were her customers, not my customers and didn't know that in fact the content creators on her site were her customers. Whenever I see people make the number one business mistake of not knowing who their customers are it throws up red flags. Red flags were flying everywhere.
The site owner was worried someone on a forum (lets face it forums are where people pirate) would say something about how a file of mine increased 5 bucks and that somehow would sully the reputation of Sensual Mistress. We had a brief email exchange. I told her I increased my prices to cover costs. She decided that she would try to school me in pricing strategy (oh shades of Kinkbomb trying to school me on the definition of a charge back) and how I should price my products and compared her site to Clips4Sale and how on her site I made a 1% more then with C4Sale, therefore it was so unfair to her and her site that I didn't in turn increase my prices across the board on every site I sell on. Including my own site where I make over 92% of my sale price (always buy direct!)
Lets talk about Clips4Sale. C4S is a huge platform, one of the oldest in the business. I've been with clips4sale since I started making content. I sold my fetish clips with them (since retired) I continue to sell my Mp3s with them. They have paid me on time for years and years and years. They have a huge built in customer base and massive traffic. I'm currently getting an extra 10% on all sales I drive myself, they will send out DMCAs for me, there is 24/7 technical support and if I have something to say I can call the owner on the phone and HE ANSWERS and he listens to my concerns. I have exchanged emails with him about features id like to see on the site and he listens. I'm small potatoes on C4S and the owner takes the time to listen to my concerns.
So I told Sensual Mistress that:
A. Her calculations about how much I make on C4S was inaccurate
B. Other sites offered other services that were of value to my business
C. If listing my content on her site was predicated on HER pricing my content (on her site and others sites) that I would happily remove my profile and files from her site.

I'm an independent content producer and I have never seen a platform attempt to price control and market control their content producers. Lots of sites have issues here and there but once you try to control how a producer prices their material and police their content on other sites no less, you have moved into real SHADY and unethical territory.
Before I got a response from the site owner my content was removed and my access to my store was disabled. My profile though remained and my listing was live. The email in return when it came was that the site couldn't allow me to raise my prices. At that point it was done, I sent my termination letter, asked for my profile and listing to be removed and that all outstanding monies be paid in 24 hours. My profile and listing was removed I however have not been paid, it's been well over 24 hours. I doubt I will be paid.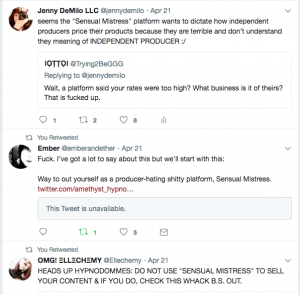 I thought that was the end of it until I heard that other well known Hypno-Dommes that were listed on the site had been treated the same as I was. Some got emails, some just got access to their store disabled before they got an email telling them that they were only allowed to sell their products on the site of they priced their files how the owner of Sensual Mistress dictated to them they should.
Sensual Mistress had clearly made it policy (though it's not written anywhere when you join) that independent content producers were not to be in control of how they priced their content. The website Sensual Mistress is to decide how independent Hypno-Dommes are to price their products on ALL WEBSITES.
I'm not sure how my colleagues are planning on dealing with this but I know at least one was allowed her access back and got a grilling about how she was going to price across other platforms. To clarify, I made on Sensual Mistress in a month what I make on Niteflirt in a weekend. I joined because of a colleagues good experience and in the hopes that I might gain a few regular European buyers. I certainly didn't join to be told by someone who cant seem to do any consistent branding how to price MY products.
Any platform that tries to price control, you should avoid like the plague. That's unethical, it's shady and it's just plain stupid. When a platform that already charges you an abhorrent percentage because your products are adult, something no other industry could get away with, then tries to market control and price control how you do business with other platforms on top of telling you how to price your products on their site, That… Is … Crazy… and you shouldn't allow yourself to be treated that way in business.
I know everyone has to make their own business decisions but if you are considering using the Sensual Mistress platform to sell your products, think hard. Do you want to make a less money per product with the fluctuation in exchange rates and very high fees for payout. Do you want a platform owner to meddle in how you do business with other sites. Do you want a platform to meddle and dictate your pricing strategy? Because all these things happen with Sensual Mistress. I deeply regret listing my files and lending my hard earned credibility and long standing reputation to Sensual Mistress for the short time I was on the site. Hopefully you can learn for my mistake.
Save
Save
Save
Save
Save
Save
Save
Save
Save