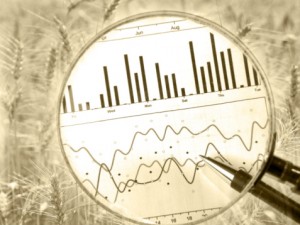 Its a mystery the Google algorithm. Everyone knows its whats brings you eyeballs to your site but no one really knows how it works. Sure you can go the the Google FAQ pages to try to learn how to "properly" interact with it but those pages are always woefully out of date and telling you to create meaningful content well that's not very helpful. lets face it Google owns the Internet and as a result Google owns us. Small business or large business alike. I try not to rely too heavily on Google and though i do better then some, they still own my ass when it come to eyeballs and searches to my website.  Ebay took a hit just yesterday because Google updated the algorithm but Ebay isn't the only one.
I've been noticing changes in traffic to my femdom hypnosis website. Now i own a lot of websites but thats my main business website and it gets a fair amount of traffic. Or rather it DID get a fair amount of traffic. That was due to a few things. I spent a lot of time working on my SEO, making my site SEO friendly and adding quality content on a consistent basis. Having the words "femdom hypnosis" in my domain name was also a big traffic push. Lots of people scramble for good domain names that sound great but also have good keywords right in the domain. I'm not so sure that's helpful anymore. My traffic dipped in March got worse in April and I've spent weeks trying to identify the issue so i can address it. I got pretty much nowhere. . I've talked to peers, its not just me. There was a shift in the force. Something happened, but i was at a loss for identifying the issue. Knowing something changed but not being able to address has made me pullout my hair frustrated. I've been frustrated and angry.
Last night came across some news articles that may shed some light on the problem. Google updated their algorithm, Panda 4.0. They also updated their payday loan algorithm. It was officially released 2 days ago but i'm guess there was a soft roll out weeks before it hit for reals. Its not just effecting the big guys, us small guys are being hammered too and we don't have the resources or access say Ebay does. I'm guessing Ebay makes a phone call to get answers, not exactly possible for me to get on the phone with Google to ask WTF and how do i address these new changes. I am left to dangle in the wind. And so are most of you.  The payday loan algorithm is supposed to target "spammy" search queries and temper results that come back with a lot of spam. How much do you wanna bet the word "hypnosis" is on that list. Of course i wont be able to get a definitive answer to that question either and i'm not sure what the work around on that might be but i will figure it out eventually. In the mean time all the hypno-dommes suffer with lower traffic numbers.
Hypno-Dommes are a cagey bunch. They hold their cards very close to the vest and really i cant blame them. Were a very small group of niche content providers and most of us want to keep it that way. As a  result we don't share a lot of information that might be helpful to each other. We suffer in silence. I hope this little post sheds some light for some of you who might be noticing that paradigm shift as i did. As i try new things to see and see if i can rectify the situation and get myself back to neutral i'll make sure to share that info. Because thats just how i roll.
Google explains Panda reforms: http://googleblog.blogspot.com/2011/02/finding-more-high-quality-sites-in.html