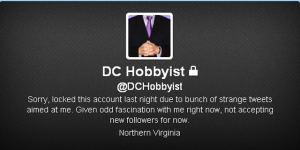 If you work for the President Of The United States and you bang hookers, it's probably not a good idea to create a secret Twitter account and taunt your bosses at the White House. It's an even worse idea to also have a second secret Twitter account where you prolifically talk about how you pay for sex. That is however what one person did. Then he got caught. Then he made national media. Like a dumbass.
He created @NatSecWonk  (get it national security wonk..*eyeroll*) and he used that Twitter account to denigrate his bosses and anyone else in the political realm he felt like. I guess people in  national security circles and some journalist followed him. I guess he thought he was being clever but really it was more of a "your fat, fuck you" kinda Twitter stream, not exactly nuanced, it was mean and not clever. Juvenile and stupid. Lets just say he didn't have a way with words.
The White House didn't like this and eventually the dude was caught reportedly due to an internal sting and his name was splatted across the national media after he was fired of course because in the capacity he worked in for the US Gov he wasn't allowed to have any social media let alone a secret Twitter mocking the people he worked for. As if that wasn't bad enough, this mental giant was also a prolific whore fucker better known as a "hobbyist". The kind of hobbyist that thinks because he fucks a lot of women for money that it makes him special. He had a board presence on the largest hooker review site in existence, the one that boasts a bizillion reviews of escorts. He thought he was a big man on the whore fucking campus.  He also had a whore fucker Twitter and was known as @DCHobbyist. That's what several national news outlets reported. Yes, DC Hobbyist the same asshat that so many sex workers had to block on Twitter because he stuck his nose in their business and often tried to peddle his whore fucking knowledge to them.  Was both @NatSecWonk and @DCHobbyist and was so stupid that he got caught. It's almost like this moron wanted to get caught. He thought he was smarter than everyone else, clearly a moron but in his own mind he was a super genius. Bonus his wife whose name now was splashed in the media  is well-known republican aid. So there's that.
DCHobbyist is  pompous, arrogant, and self-serving. Hes also rumored to the be the poison pen writer of a blog post that has since been removed on the Slixa blog where he teaches other whore fuckers how to manipulate and connive and lie for a discount for fucking whores. Lovely. He's that guy, the one that acts likes he's all rah-rah sex worker but really hes playing a part and has an agenda, hoping that if he perceived as a supporter he'll get some nookie on the cheap. Oh and he writes reviews, lots of reviews, reviews that are so hyper critical of women that many escorts had declined to meet with him based on what he's written.
The NatSecWonk Twitter was deleted but the DCHobbyist one was only locked down and recently it came to my attention that he's tweeting to hookers again (and stupid girls are tweeting back). Maybe hes bored cuz his wife kicked his unbelievably irresponsible ass out, for not just getting caught being a fruit-loop and getting fired but for all the whore fucking he did and all the bragging he did about said whore fucking… in writing. What a prince charming. It seems he's starving for  attention and clearly he's deranged and can't stop. He couldn't stop mocking the highest office in the land, an office for which he worked. He couldn't stop himself from being a douche to hookers, he couldn't keep his whore fucking to himself and he humiliated his family.  He was the subject of a White House investigation which got him fired, named in national media and humiliated for his stupidity but yet he still is trying to be somebody in the hooker scene. He should be shunned,  hes made us all look bad, he brought scrutiny upon us all and he did it because he needed to feel important and special. Anyone who engages with him is taking a major risk and in a such risky business why in the fuck would you want to bring on more than you have to. It's not like the idiot has any money to spend.. he got fired and i really doubt anyone will be hiring his dumb ass anytime soon.
Resources:
http://www.politico.com/politico44/2013/10/nsc-aide-admits-twitter-attack-on-white-house-175722.html
http://nymag.com/daily/intelligencer/2013/10/natsecwonk-also-dchobbyist-prostitute-expert.html
http://freebeacon.com/sex-lies-and-twitter-accounts/
http://www.washingtonpost.com/blogs/post-politics/wp/2013/10/23/a-sampling-of-controversial-tweets-from-natsecwonk/
http://www.dailymail.co.uk/news/article-2474909/Jofi-Joseph-tweets-soliciting-prostitutes-Twitter.html
http://nymag.com/daily/intelligencer/2013/10/most-offensive-natsecwonk-tweets-about-women.html
http://www.slate.com/blogs/future_tense/2013/10/24/jofi_joseph_anonymous_natsecwonk_handle_revealed_to_be_national_security.html