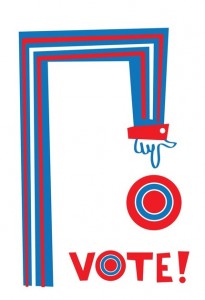 Voting is not just a right its a responsibility. Its also the patriotic thing to do. I know its a pain in the ass, especially if you are unlucky enough to live in Florida where the lines are ridiculous for early voting and the will be just as stupid long on election day. (thanks a lot Gov Rick "lerch" Scott) But its your duty, its the right thing to do AND as I did with the last presidential election it will get a free stuff from me Jenny DeMIlo. Yes, I'm doing it again this year! How it works is simple.
1. Go vote!
2. Email  me a photo of  you holding your  " I have voted" sticker or ballot receipt (Jenny@goodtimejenny.com)
3. There is no 3 that's it.
I will send out a free hypnosis MP3  to everyone who sends me proof that they braved the lines, cold and poll watchers to do their civic duty and vote. I don't care who you vote for, I just care that you vote.You can obscure your face in your voting pic hell stick your "I have voted" sticker on your ass and send it to me if you want. I don't care and yes  your "I voted early" sticker counts too! Be creative or be boring its up to you but make sure to let me know if I can post your photo cuz last time I got some awesome photos but forgot that part so only I got to see them!
You have until Nov the 7th 2012 at 12 noon EST to send in that pic and that evening I will send out the free hypnosis Mp3….So get out there and vote!