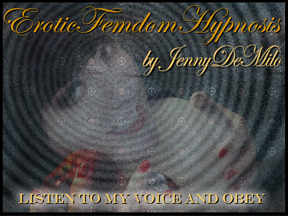 I fell into it but I took to it like a duck to water and by that i mean it looks all easy peasy from the surface but underneath I'm paddling like hell to keep myself moving forward. I am a hypno domme, i will mesmerize you into doing all the nasty dirty things you really wanna do but are to fucking scared to just do. I give you permission, I let you think I'm "forcing"  hey I'm a fetish freak, I get it and I'm happy to help you in your journey of self discovery or self repression or what ever it is that tickles your dangly pickle. Call me a fetish conduit because I suppose thats what I am.
One of my peddling beneath the surface efforts was to launch my own site where I controlled the content. I already sell my fetish content on other sites and i will continue to do so. I love some of them like a fat kid loves yummy, yummy cake so in no way will I be yanking anything and really who doesn't want their content reaching out to different audiences with other people promoting it. For me that's a no brainier, the more it's available the more it will sell. I've launched my own femdom hypnosis themed site because I'm a greedy control freak bitch and I want more of the cash for my hard work and I want more of the control. Call me crazy but that's how I roll.
When I conceived of this femdom hypnosis web site I had a different idea in mind and I also hired a web design company to put it together for me. They of course sucked giant donkey balls and never did squat and had to issue me a refund for their lame incompetence. (Write me ladies I'll tell you who) So after months of not having a site in play and way behind schedule I was put in a position to design and put up my own site.. which i did. In a day. Granted it was a long ass day and half if it was spent with me pulling my long luxurious sexy red hot streaked hair out because I had a lot to figure out but i got the job done and it looks… fucking amazing. It's all hypno spooky and as things stand right now I have 90% of my content available uploaded for sale and it is selling. Less then a month and I'm in the black. Now a lot of that is because I invested my time and not my cash in this project so being in the black came easier then expected.
The next step is SEO, that's right i need to learn a few things about getting my site out in front of the people who would be interested in my special band of fetish content. I've done a fair amount in the past with hooker sites and blogs and (some real world seo work, yeah i do that too)  but this is e-commerce so i do have things to learn and learn i will. I'll attack this how i attack everything else with vigor, passion, and lots of book reading … until the site brings in the monthly nut I want and I get bored and move on to the next bring shiny thing. Yes, that's right i'm not only  a control freak but im a control freak who needs constant outside stimulation… which is likely one of the reasons I became a hooker in the first place.
I thrive on variety
Erotic Femdom Hypnosis