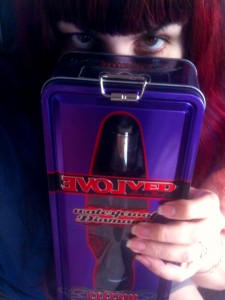 Being as The Supercrush (that's code for my boyfriend) and I live in different states I often have long periods of time where I have to entertain myself in the sexy time department. Good thing the folks at Eden Fantasys were kind enough to send me out a little naughty distraction for my lady parts.
This time when I opened the mail it was the Evolve Diamante vibrator. First thing i noticed was the pretty awesome packaging. Metallic metal case much like a sexy purple lunch box! It's so much nicer to get something packaged in something modern and cool instead of some brown paper bag or outdated graphics and photos from the 70's (no one wants to see a 70's stache on a dude holding a vibe on the box of their new sex toy)  Inside this nicely designed box was the toy its self (it doesn't come with batteries so better have a few on hand) it's big and being a size queen (shhh don't tell)  i could feel a little tingle of excitement as most toys that say they are big, really are kinda average. This thing isn't just a good size in length, its got girth! And is sorta a half hard plastic and half smoother rubber, woot! it also has several speeds that aren't so loud you will wake the neighbors while you go to town on yourself .. it really feels like a dildo with vibration. Which is a nice little… errr big toy to add to your sex toy collection. (so much better then collecting stamps)
it does the job well and worked hard as a stand in for my regular fare… hot sweaty sex with the supercrush. Not quite a stunt cock but when you're alone and looking for a little me time, the XX will treat ya right, it treated me right … twice!